Hawk Environmental Services offers the full line of large and specialty HEPA and VOC filters for commercial buildings, Office spaces, Retail facilities, Industrial and Manufacturing operations.  Each type of building has different requirements and needs, but below is a brief sampling of the equipment offered.  Please call or email for more detailed product and pricing information
What sets Amaircare® apart from its competitors?
The housings for Amaircare® air filtration systems are made of durable metal, not plastic, which can be a source of V.O.C.'s.
Amaircare® uses the highest quality, energy efficient, German-made motors resulting in significantly lower operating costs and longer life.
Amaircare® air filtration systems use a three-stage filtration process for removal of larger contaminants, fine particulates and V.O.C.s
Amaircare® designs and manufactures all major components including HEPA filters, outsourcing only the motors.
Amaircare®'s ongoing research and development program assures continual product improvement and new product development.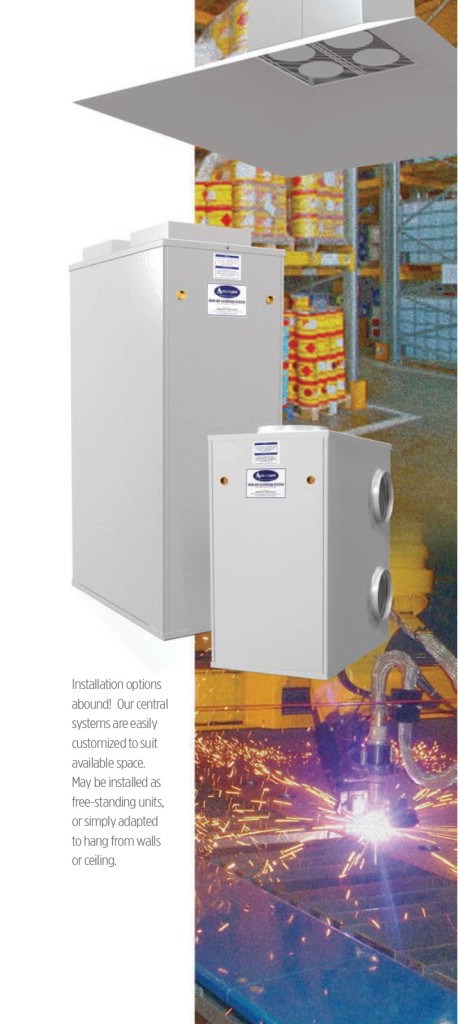 The Amaircare 4000 VOC Chemfilter and table-top fume extractor are perfect for light industrial and manufacturing operations.  These units can be installed in almost any area to collect odors and chemical VOC from a wide variety of pollutant sources.  These units are great for small to medium printing operations, model and prototype production areas, and small finishing stations.  Key product features include:
Portable HEPA/VOC 100% sealed device
U.L. and CSA approved
24 gauge steel powder-coated construction
Thermally protected class B insulated motor
Designed for continuous operations
Run tested for 50,000 hours
12 volt, 60 Hz or 230 volt 50/60 Hz
Large Commercial and Industrial HEPA and VOC filters
The AirWash 7500 and 10000 models offer highly effective and durable 3-stage filtration for particulates, biologicals, and VOC's for almost any commercial or industrial application.  Key product features include:
Central HEPA 100% sealed device
U.L. and CSA approved
18 gauge steel powder-coated construction
Thermally protected class B insulated motor
Designed for continuous operations
Run tested for 50,000 hours
Can be installed with existing air handling units or as a stand-alone filter
Long filter life:

Pre-filter (washable)- 1 year
HEPA filter – 3-5 years
Carbon filter – 6 months
Optional VOC filter – 12 months