Why is ventilation in a building important?
As we make our homes and offices more energy efficient we strive to limit the loss of warm air and the infiltration of cold air.  The techniques used to create this energy efficiency are valuable in lower our heating bills, but if done incorrectly they may create indoor air quality concerns and uncomfortable spaces.  A ventilation assessment performed by a qualified inspector can help you pinpoint the cause of some important indoor air quality issues and create a pan to properly ventilate the building.
Recommended Ventilation Rates:
As per 2013 ASHRAE 62.2 <(these requirements are in excess of Washington State's most current building codes, but Hawk Environmental Services prefers a more liberal ventilation plan)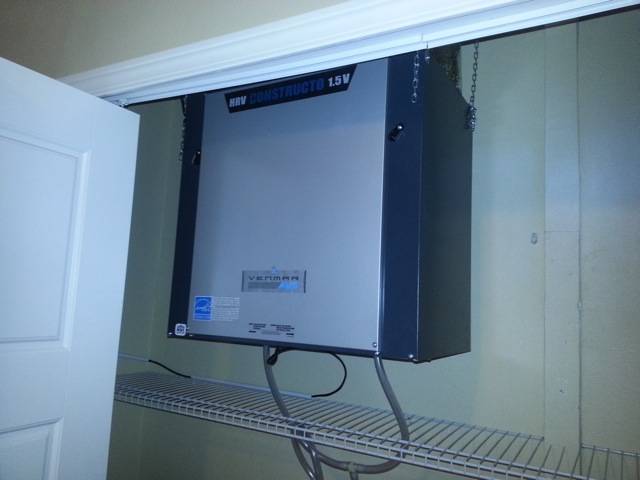 Floor Area

in Ft2

Number of Bedrooms

1

2

3

4

5

<500

30

38

45

53

60

501-1000

45

53

60

68

75

1001-1500

60

68

75

83

90

1501-2000

75

83

90

98

105

2001 – 2500

90

98

105

113

120

2501-3000

105

113

120

128

135

3001-3500

120

128

135

143

150

3501-4000

135

143

150

158

165

4001-4500

150

158

165

173

180

4501-5000

165

173

180

188

195
What are the symptoms of insufficient ventilation?
Buildings that are not sufficiently ventilated may suffer from persistent odors, visible condensation, stuffy and stagnant feeling air, and occupant sickness.  When a building is not getting sufficient fresh-air there may be a buildup of humidity, causing mold growth and dust mite infestation.  Poor ventilation will also concentrate "miscellaneous building pollutants" such as cleaners, fragrances, cosmetics, and off-gassing from paints, plastics, fire-retardants and other man-made building materials.  In addition to these conditions which may cause respiratory, skin, and eye irritation poor ventilation may lead to high levels of carbon dioxide which can cause lethargy, headaches, and general sluggishness.  Part of the Seattle ventilation assessment includes measuring and testing carbon dioxide, relative humidity, and total VOC's (volatile organic compounds).  This data is then compiled into your report to paint a scientific picture of the factors that may be contributing to your indoor air quality problems.
Why should you pay for a Seattle ventilation assessment?
Building in the Pacific Northwest are built using a variety of construction techniques, and all have unique attributes.  Spending the money upfront for a professional Seattle ventilation assessment can save you money in the long run, as you will have a better understanding as to the benefits and drawbacks of the different methods for ventilation.  We are always happy to discuss the specifics of your project by phone or email, so don't hesitate to contact us today
How can ventilation be improved?
We always strive to create a ventilation plan that is cost-effective and energy efficient.  After your Seattle ventilation assessment you will be provided with a report that outlines several different solutions.  Below are some of the possible resolutions to typical ventilation concerns:
Negative pressure ventilation system (Exhaust Fans)
Existing exhaust fans may be set on digital timer to achieve the desired ventilation rates
New constant-flow exhaust fans may be installed to provide the desired ventilation rates
Fresh-air will be drawn in through window vents or natural building leakage
Positive pressure ventilation system
A fresh-air intake duct may be installed on your existing HVAC system to add outside air directly into the air-stream
Neutral pressure ventilation system
A heat-recovery ventilation system may be installed (either with new ducting or connected to existing ducting) to exhaust stale air and bring in an equal amount of fresh-air