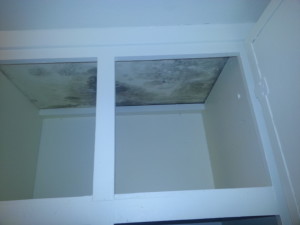 A roof leak has caused significant mold growth and damage to asbestos popcorn ceiling.  Keep reading to see some of the inspection processes we use.
The Damage
History
The clients had the cedar shake roof replaced with composition shingles, but the roofer neglected to install the appropriate attic ventilation, resulting in high humidity and mold growth in the attic space. In addition to the lack of ventilation, the roof has suffered damage in several areas, which has led to roof leaks. These leaks have caused significant amounts of mold growth on the ceiling in the master bedroom and laundry room.
Testing
As they could identify visible mold growth in several areas of the home, the clients opted against indoor air quality testing, assuming that indoor mold spore levels were elevated. Hawk Environmental Services always tries to limit costly and unnecessary testing. We performed final air quality testing once the remediation was complete.
As per the EPA's guidelines on asbestos sampling, a certified AHERA building inspector gathered three samples of the sheetrock ceiling (including gypsum board, joint compound, and popcorn ceiling texture) and sent them to a certified lab for analysis.
Resolving the Issues
The clients were provided with a plan for:
Roof repair and/or replacement
Attic ventilation (as per modern building codes)
Ventilation of the living space (as per ASHRAE 62.2)
Mold remediation of the living spaces (taking into account the asbestos sampling results)
Mold remediation of the attic space (we provided three options to the clients with industry standard cost estimates)
Benefits of a Neutral Third-Party Inspection
Prior to contacting Hawk Environmental Services for a mold inspection, the clients had spoken to several contractors and mold remediation companies. The recommended procedures for remediation and associated cost of services varied widely. We are able to provide a completely unbiased protocol for the clients to ensure that they get the project completed in a professional and cost-effective manner. Our No. 1 concern is a satisfied client, and not profit generated from cleanup and remediation work.
Comments are closed.